Today is the day when an alien spacecraft appears and remains visible for the next three days, according to Australia's
Blossom Goodchild
.
The aliens are coming ... today
Daily Telegraph AU
A MASSIVE alien spaceship is to land on Earth TODAY to prove life really is out there, an Aussie psychic insists - and bookies are so worried they stopped taking bets on it happening.

Queensland-based "channeler" Blossom Goodchild says aliens informed her of their plans that a huge intergalactic spaceship will appear over the American desert.
Bookies suspend bets on alien landing
Daily Record UK
WORRIED bookmakers have stopped taking bets on aliens showing up on Earth.

It follows a flurry of bets amid internet buzz that a massive intergalactic spaceship will appear tomorrow.

Videos and messages on YouTube, blogs and UFO websites are buzzing with predictions that a vessel from the alien Federation Of Light will be visible in our skies for three days.

It may all sound more oddball than odds-on - but bookies William Hill are taking it seriously enough to temporarily suspend betting on proof of the existence of intelligent alien life being confirmed by PM Gordon Brown.
The Galactic Felines of Light just wired me photo from Toyko.
Apparently they prefer sushi. May the meow be with you...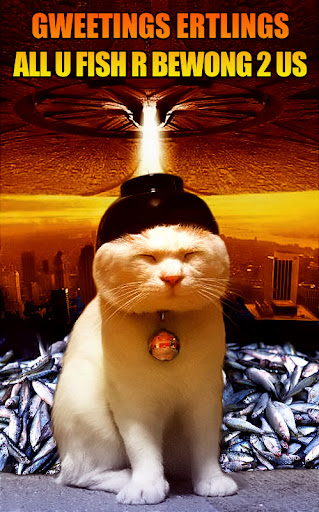 Or perhaps?
May the farce be with you, nanu nanu.